Teledyne Optech Sponsorship and Contribution
Teledyne Optech is partnering with the Ocean Cleanup team to support the expedition. Contributing hardware, software and expert consultation, Teledyne Optech will work with the team to create the first-ever aerial survey of the Great Pacific Garbage Patch.
As a world leader in lidar and a pioneer in bathymetric lidar, this project is a perfect fit for Teledyne Optech's technology, capability and expertise. In fact, Teledyne Optech has a long history of developing technology for environmental monitoring through its ongoing relationships with organizations such as the Joint Airborne Lidar Bathymetry Technical Center of Expertise (JALBTCX) and others in areas such as coral reefs and coastal zone monitoring.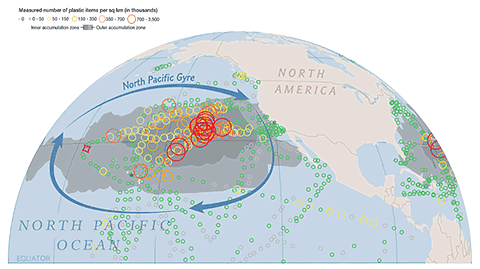 Currently, scientists can only estimate the true size of the garbage patch. Leveraging Teledyne Optech's 40-plus years of lidar and software experience, as well as advanced lidar systems like our Teledyne Optech CZMIL Nova Coastal Zone Mapping and Imaging Lidar, the expedition will achieve a faster and more comprehensive scanning of the debris field and be able to begin large-scale debris classification.
During the two-day mission, the expedition will scan thousands of square kilometers using the CZMIL Nova's suite of image and data collection instruments, including its high-power bathymetric lidar, RGB camera system, and ITRES SASI-600 SWIR (Short-Wave Infrared) sensor. In addition, they will deploy our proprietary data processing software, Teledyne Optech HydroFusion, which gathers data from the lidar, camera, and spectral sensors and fuses this information to estimate both the size of garbage patch (i.e. object detection – how much garbage per square km) as well as the types of plastic present. This system will generate the first detailed 3D visualization image for post-expedition research.